Commitment to Sakai
Just after the world war, October 1945, our company was founded in by Usaburo Hayashi, who was a salesperson of Sakai-origin hardware.
The place where he put the office was Kukencho-town. That was a town where many forge craftsmen lived. Usaburo's special fondness to Sakai-hardware let him choose that place.
Now our company moved head office and become to handle various items. However, HAYASHI never forget Usaburo's passion to hardwere and SAKAI.
History

Sakai has been inhabited since the Stone Age, and chipped stone tools from approximately 10,000 years ago, earthenware/stone vessels from the Jomon Period and bronze bell-shaped vessels and earthenware vessels from the Yayoi Period were excavated from ruins within city limits. The Yamato Dynasty was established in the 4th to 5th centuries, during which time the Mozu Tumulus Cluster was built, consisting of more than one hundred ancient burial mounds, including the Nintoku-ryo Tumulus.
The name "Sakai" (meaning boundary in Japanese) originated from when it was located at the boundary of the three ancient countries of Settsu, Kawachi and Izumi during the Heian Period.
Sakai became a fishing port during the Kamakura Period and subsequently developed into a marine transportation hub for Western Japan. During the Sengoku Period, Sakai faces its golden age as a trading port.
Sakai developed as an exchange hub for foreign trade with the Ming Dynasty, Spain and Portugal. Sakai at the time, was surrounded by a moat, which was a rare incidence, even on a global scale, and it flourished as self-governed city.
After the Meiji Period, Sakai quickly modernized-modern industry developed, the population increased, the urban area expanded and transportation advanced.The city continues to grow robustly today as well.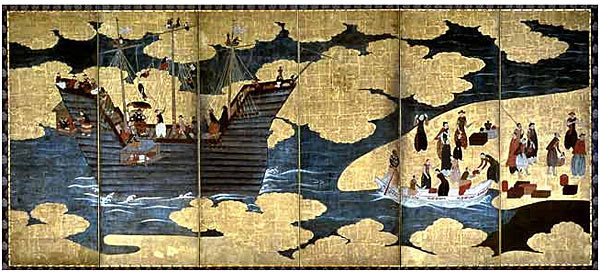 From the 3rd century to 7th century, when kings or paramount chives died, people built big tombs from sands and stones – known as Kofun. It is said that there are 0.2 millions of Kofun in Japan.
Mozu Kofungun consists of 44 tombs, among them 22 keyhole-shaped tombs, 17 round tombs, and 5 square tombs. Originally the Tumuli numbered more than 100.
INintoku-tenno-ryo Kofun, Japan's largest keyhole-shaped tombs, tells a tale of the development of culture since ancient times. Including partially collapsed mounds.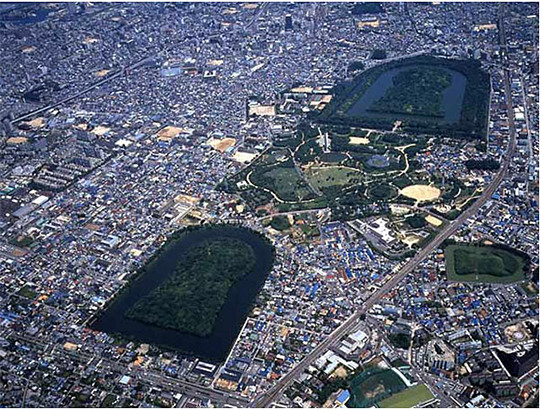 Major Industry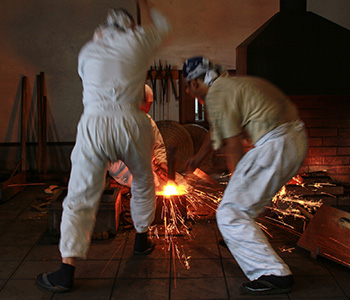 Sakai's cutlery industry started to flourish in the 16th century when tobacco was introduced into Japan from Portugal . As Japan started cultivating its own tobacco plants, mass production of knives to chop the tobacco leaves was required. The first of such knives were made in Sakai.
Gradually, Sakai's high-grade knives came to exceed their foreign-made rivals in quality. During the Edo Period, the Tokugawa Shogunate hallmarked them with the words 'Sakai Kiwame', which guaranteed the product's authenticity, and sold them exclusively throughout Japan.
As a result, Sakai knives spread across the country, laying the foundations for the prestige of Sakai blades today.
Sakai Traditional Blades, which are made using the traditional Sakai knife forging technology, were appointed a 'Traditional Craft Product' by the Minister of International Trade and Industry (now The Minister of Economy, Trade and Industry) in March of 1982. Most professionals in Japan today use Sakai-made knives.
Also, in October 2007, "Sakai Blades" and "Sakai Traditional Blades" were registered as local community trademarks by the Japan Patent Office.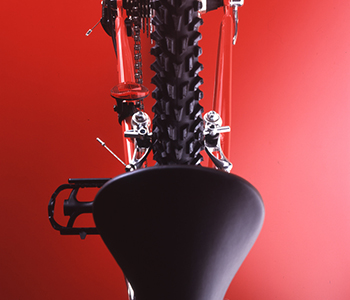 The bicycle made its debut in Japan in the 19th century. Around 1870, bicycles were imported and rented out by the hour. When Japan started producing its own bicycles in 1899, demand for them increased even more.
As bicycles blossomed in popularity, there was a corresponding need for parts and repairs.
Sakai's gunsmiths took on this new job because they had the foremost knowledge of mechanics and metallurgy in Japan in those days.
The 1st World War (1914-1918) triggered the establishment of the bicycle industry in Japan.
At that time Japan still relied heavily on imported bicycles, but all imports stopped when World War One started. Japan had to make many things domestically, including the bicycle.
Sakai grew to be one of Japan's major bicycle producing regions during this period.
It is said that Japan's bicycle industry would disappear without Sakai's bicycle parts. Sakai's modern day bicycle industry continues to produce various types of bicycles to meet the needs of the customer.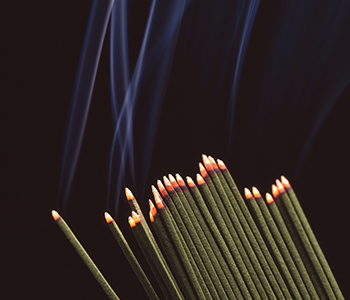 There are many theories about the beginning of the senko industry in Japan. The only thing certain is that its manufacturing method had already come from China by the 16th century and Sakai was its manufacturing center.
In those days Sakai was Japan's largest free port allowed to trade with the world. Missionaries wrote back home describing Sakai as "a large and prosperous city, flourishing in business, just like a public market place where people come and go constantly."
Sakai became the center of senko production because it had easy access to most of the raw materials imported from overseas, and out of the necessity to supply the temples existing in and around Sakai. Ranking third, following Kyoto and Nara in the number of Buddhist temples, Sakai is referred to as the "Buddhist Capital of Sennan".
Sakai's senko stands out from the rest because of its blend of the finest, natural ingredients. It is also referred to as a fragrant work of art. Recognizing the natural fragrance's healing factors, the medical profession has been using it as a form of treatment, while the manufacturers of room fresheners are using it in indoor aromatics.